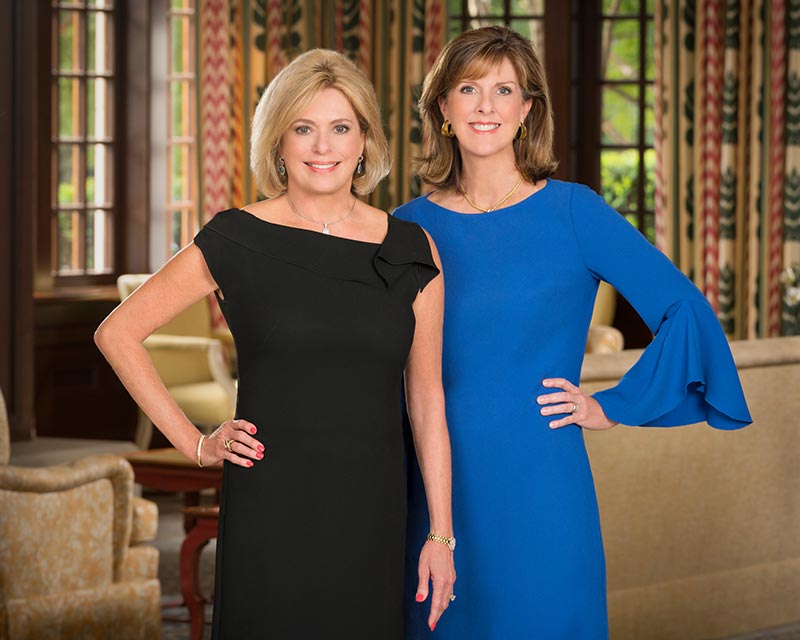 The Pinkston-Harris Real Estate Team
In 2004, two top agents with Allie Beth Allman joined forces to create a successful real estate team called Pinkston-Harris. Their clients benefit from the advantage of working with two committed agents, where one is always available for their clients. Stephanie and Margie have different perspectives and personalities, which have proven to be a winning combination! Pinkston-Harris Real Estate Team has consistently been named the Top Producing Team at Allie Beth Allman & Associates. Stephanie and Margie, both, serve as Executive Vice President at Allie Beth Allman & Associates.

Pinkston-Harris has a proven track record of success and a level of market knowledge that can only be attained through years of experience. Their business has grown mainly through repeat clients and referrals.
Words that best describe the Pinkston-Harris Real Estate Team are: Caring, Communication, and Commitment to successfully close each transaction.
Professional Awards:
Pinnacle Producer Level ($30m+ annual production)
Named in "Top Listings & Selling Agents in Park Cities" by People Newspapers
D Magazine's Top Real Estate Producers and Best Realtors of Dallas
Texas Monthly Five Star Real Estate Agents- Top Dallas Realtors
Modern Luxury Real Estate Agent Award Recipients
Top Producing Team at Allie Beth Allman & Associates
Strengths:
Two experienced Real Estate agents, since 1977 & 1992
Focused on Park Cities, Preston Hollow Area, East Dallas, Devonshire/Briarwood, West HP and Greenway Parks
Strong knowledge of current listings, market trends, pricing
Networks with top producers in Dallas, with regards to "off market" properties
Increased digital presence & social media for properties & marketing
Benefits of working with 2 committed agents 24/7
Communication is top priority
Focus on goal of working hard for our clients and getting your home SOLD!
Stephanie Pinkston
Pinkston-Harris Real Estate Team
Allie Beth Allman & Associates
Executive Vice President
Stephanie graduated from Southern Methodist University's Cox School of Business in 1981 with a Bachelor of Business Administration in Real Estate and Accounting. She obtained her Real Estate License in 1977 and her Broker's License in 1979. She is a real estate entrepreneur who previously owned her own real estate company that grew to two offices and over 70 agents. She sold her interest in the company in 1993 but continued her real estate career working for Ellen Terry Realtors and later joined Allie Beth Allman and Associates in 2005. Her experience in real estate ranges from her internships during college, to land sales, joint ventures, residential development and residential sales. Stephanie strongly believes in serving the community she lives in with a commitment to excellence through education, leadership and community involvement is paramount. As a real estate professional, she has the same commitment to serving your Real Estate needs!
Margie Harris
Pinkston-Harris Real Estate Team
Allie Beth Allman & Associates
Executive Vice President
Margie graduated from University of Texas in 1980, with a Bachelor of Science in Advertising and Communications. Early in her career, she focused on advertising, being the Director of Advertising for Park Cities People newspapers. She attained her real estate license in 1992 and joined Allie Beth Allman & Associates.
Margie and her husband Neil have raised their 3 daughters in the Park Cities, where they still reside. They spend their free time loving on their 6 grandchildren, and staying active in their church, Park Cities Presbyterian. Margie is on the Board of West Dallas Community School, and a member of Kappa Kappa Gamma, Council for Life, One Hundred Shares, and the Clayton Dabney Foundation.
We Market To Sell